At AES Precast we offer designs that are practical and built to suite whatever your needs may be.  With 100% concrete construction, this structure is built for a lifetime of use.  We offer many options for interior and exterior.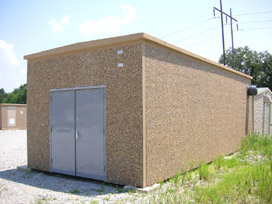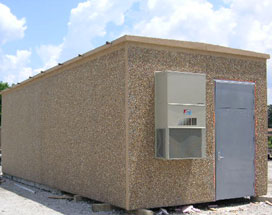 Many Exterior Finishes to Match Your Existing Structure!
Custom exterior dimensions
Doors and door placement
Painted Interior
Exterior finish
Electrical panels
Heaters
Active ventilation
Overhead doors
Hurricane zone tie-down package
Wall thickness
HVAC
Fire suppression systems
Various interior / exterior lighting
Receptacles
Walls 3″ Thick, Roof 4″ @ edge; 5″ @ center; giving 1″ slope from center to edge
Concrete: Steel-reinforced, polypropylene fiber reinforced, 4000 PSI minimum 28-day compressive strength, air-entrained
Reinforcing Steel: ASTM A615, grade 60 unless otherwise indicated
Reinforcing Fiber: Polypropylene fiber
Panel Connections: All panels shall be securely welded together with 1/4″ thick steel brackets.
Caulking: All joints between panels and modules shall be caulked on the exterior and interior surface of the joints.
UL-752 Bulletproof
Cat. 5 Hurricane Resistant
All pump housings custom built around specific needs.
Click Here to Get Your FREE Quote!