At AES Precast we offer designs that are practical and built to suite whatever your needs may be.  With 100% concrete construction, this restroom is built for a lifetime of heavy traffic and easily resists vandalism.  We offer many options for interior and exterior.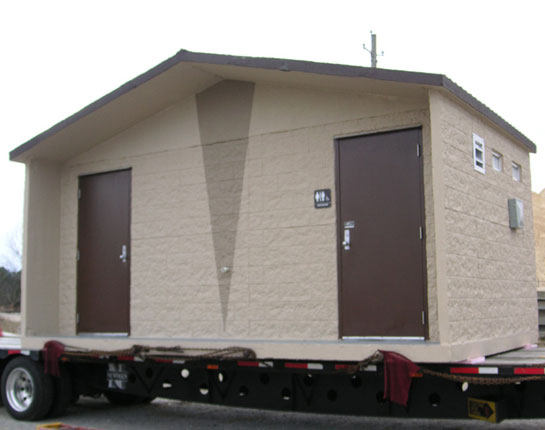 Many Exterior Finishes to Match Your Existing Structure!
Motion Activated Lighting and Fans
Chase Heater with Thermostat
Stainless Steel Partitions
Solid Plastic Partitions
GFCI Receptacles
ADA Water Fountain
Hurricane Zone Tie-Down Package
Keded Hose Bibs
Jug Fillers
Sealed Septic Tank
Vapor-Proof Lighting
Interior Breaker Panel
Choice of Simulated Exterior Finish & Colors
Stainless Steel or Vitreous China Fixtures
Electric Hand Dryers
Tankless Water Heaters
Diaper Changing Stations
R-18 Insulation Package with FRP Laminated Plywood Walls and Ceiling
Vandal Resistant Fixtures
Concealed Flush Valves
Heavy Duty Wall Louvers
Non-Slip Floor Coating
Walls 4″ Thick, Floor 6″ Thick, Roof 4″ Thick (Concrete Gable Roof )
Concrete: Steel-reinforced, polypropylene fiber reinforced, 5000 PSI minimum 28-day compressive strength, air-entrained
Reinforcing Steel: ASTM A615, grade 60 unless otherwise indicated
Reinforcing Fiber: Polypropylene fiber
Panel Connections: All panels shall be securely welded together with 1/4″ thick steel brackets
Caulking: All joints between panels and modules shall be caulked on the exterior and interior surface of the joints
All restrooms are custom built around specific needs
UL-752 Level 4 Bulletproof
150+ MPH Wind Resistance with Hurricane Tie-Down Package
Click Here to Get Your FREE Quote!